Get your feet wet and enjoy feeding fish from the privacy of your backyard
Thousands of ponds created, maintained, and repaired
5-star rated on Google, Facebook, and Houzz
A Pond Always Goes Well With A Patio
Who doesn't love a little nature in their backyard? Sure, landscape design, flowers, plants, and a nice patio are must-haves for a great backyard, but there's something about water that makes everything better.
A pond is a great way to bring life and beauty to your backyard, making your outdoor space look more inviting. It's also an investment you can't go wrong with, increasing your home's value, curb appeal, and providing you with years of enjoyment.
At New England Aquatic Landscaping, we specialize in custom pond design and installation, so that you can get the pond that fits perfectly in your backyard and enhances your home and lifestyle.
The most common features and upgrades of a pond include:
Get Back Outside And Enjoy All The Wildlife Your Pond Brings
Besides being a focal point in your backyard, a great side benefit of having a pond is all the wildlife it attracts. They turn your backyard into a magical sanctuary that you'll want to spend as much time in as possible.
You don't need acres of land to enjoy the best of nature. One pond is enough to revitalize your home's landscape into something unique. Enjoying the sights and sounds of birds as they fly around, drink from the pond's surface, or have a birdbath before dusk is the perfect way to end any day and reconnect with your family. And it's all right there, in your backyard.
We're here to help build the pond you've been dreaming of and turn your backyard into an oasis for the whole family to enjoy. Here's how we do it:
Get in touch with us via phone call, email, or text, and tell us what your dream pond looks like to you. We'll ask for some photos to better understand your vision, and we'll have a phone consultation to discuss everything in detail.
Before starting on your project, our team will have a home visit to meet with you in person and share your vision. Once all the details are set, we'll begin working on your new pond, keeping you informed along the way.
Big or small, your pond will add some appeal to your backyard. After the final walkthrough with our team, get ready to share the news about your new pond and start enjoying it with your family and friends.
If you've ever dreamed of a pond or koi pond, we're here to help. Regardless of your backyard size, we can create a water feature specially designed for your home.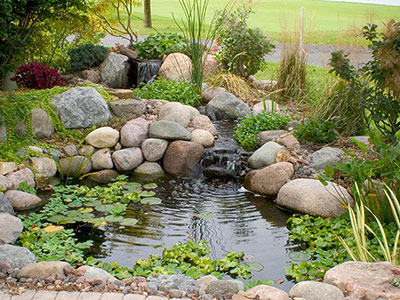 2 feet deep 7x10 pond, with fish and a small waterfall. Does not include lighting or plants.
2 feet deep 10x15 pond, with waterfall and stream, aquatic plants, fish, and basic lighting package.
2 feet deep 20x25 large pond, with waterfall and stream, aquatic plants, fish, advanced lighting package, and smart technology equipment.
*Prices are averages and may change depending on the exact size of your pond, your choice of technology and equipment, plants, fish, and overall design. You'll receive an exact quote for your unique pond after the in-home visit.
The Proof Of Happy Customers
As one of the leading water feature companies in the industry we can assure you that your project is in the right hands. Whether we're cleaning your existing water feature or building a new pond or waterfall for you, we have your back.
I worked with Shawn on a pond build for a school in Maryland and found him to be a true professional in every aspect of the word.
His creative style and belief of 'ponds done right' will carry him decades in his profession…..!!!
Great Company.
Their passion for water features really shows in the work they do.
I highly recommend I Love Ponds.com.
Family run business that does a super fantastic job!
Make The Most Of Your Landscape With A Thriving Pond