Create a natural-looking corner of heaven in your backyard with a pondless waterfall or stream
Thousands of ponds created, maintained, and repaired
5-star rated on Google, Facebook, and Houzz
Get All The Benefits Of A Pond Without The Maintenance
A fish pond is a spectacular home addition, but not everyone is ready for the commitment of regular maintenance, caring for the health of the fish, and not being able to leave home for extended periods of time.
Instead of having a big pond, choosing a pondless waterfall can be the next best thing for your backyard. The pondless design eliminates worries about kids or pets playing near deeper water while still letting you enjoy some much-needed tranquility in your backyard.
Using an underground reservoir of water, a pondless construction requires very little maintenance. You can keep it running all the time and enjoy a spectacular water feature year round.
A Pleasure To Look At From All Corners Of Your Property
We design any pondless feature around your home landscape so that it looks like it's always been there.
Imagine gazing out on your kitchen or living room window and seeing a beautiful, natural-looking waterfall cascading over smooth rocks and boulders, then magically disappearing into the ground. Bathe in the serenity of its sounds and let it wash your stress away.
Your pondless waterfall has the potential to become your favorite place in your entire home, setting the scene for a delightful outdoor dinner or being your secret place where you unwind and relax.
Pondless waterfalls work well and look fantastic on any type of land and in any space. So if you want the looks of a pond without the maintenance that comes with it, you're the perfect candidate for a pondless water feature. Here's how we do it:
Get in touch with us via phone call, email, or text, and tell us what your perfect waterfall looks like. We'll ask for some photos to better understand your vision, and we'll have a phone consultation to discuss everything in detail.
Before starting on your project, Shawn and his team will have a home visit to meet with you in person and share your vision. Once all the details are set, we'll begin working on your pondless waterfall, keeping you informed along the way.
Time to enjoy nature and its soothing effects anytime you want. Just gaze over your waterfall when you need a break, or gather around it with your friends and loved ones with a relaxing drink.
Pondless Water Features Prices
Enjoy the magic sight and calm of a waterfall paradise that's just beyond your backdoor. Let's get you a pondless waterfall and turn your backyard into a home oasis you can enjoy day by day.
Simple Pondless Water Feature*
5 ft. long stream and waterfall with multiple drops.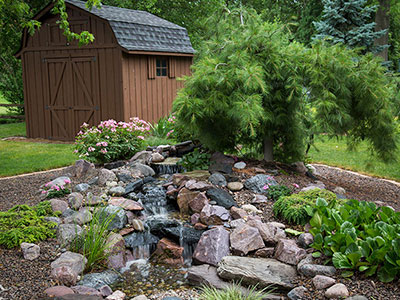 Average Pondless Water Feature*
10 ft. long stream and waterfall with multiple drops, lights, boulders, and autofill.
High-End Pondless Water Feature*
18 ft. long stream and waterfalll with multiple drops, lights, boulders, and autofill.
*Prices are averages and may change depending on the size and design of your pondless water feature, and any other additional waterworks or landscaping around it. You'll receive an exact quote for your pondless feature after the in-home visit.
The Proof Of Happy Customers
As one of the leading water feature companies in the industry we can assure you that your project is in the right hands. Whether we're cleaning your existing water feature or building a new pond or waterfall for you, we have your back.
New England Aquatic Landscaping does beautiful work!
Shawn has worked with the best pond and waterfall artists at Aquascape. I would highly recommend this company to create incredible backyard ponds pondless waterfalls, and fountains for all of MA.
Travis Dietle - Arbor Ridge Services
Shawn and I just completed a revamp of a pondless waterfall at a public library.
Shawn graciously donated his time to improve this public retreat. His great work ethic and artistic eye, along with his passion for the water garden industry make it an easy recommendation for me to make.
I wouldn't hesitate to hire Shawn for your waterfeature or hardscape project, in fact, I may just bring him in to help with my next big job.
Forever Green Landscaping
Our Koi pond was cleaned and the water is now looking pristine, our koi were so happy swimming around and racing each other.
They arrived on time and completed the job expeditiously and were very professional. 
They also spoke with me about the pond condition and recommendations, we are definitely going to hire them again.
Craft Your Personal Stream Or Waterfall Right Outside Your Door