Pond Maintenance & Cleaning
Keep your water feature healthy and clean and enjoy your pond all year long
Thousands of ponds created, maintained, and repaired
5-star rated on Google, Facebook, and Houzz
Have Your Pond Taken Care Of Through The Seasons
If you already have a pond, you know things can get out of hand quickly in regards to keeping it clean. Green algae, sludge, and debris are unpleasant sights, and dirty water can be dangerous for your fish.
In order for you to enjoy your pond for as long as possible, there's more to maintenance than meets the eye. The team here at New England Aquatic Landscaping takes care of everything for you, from washing away residues to removing overgrown and out-of-control aquatic plants to preparing your pond for each season.
We'll Get Our Hands Dirty So You Don't Have To
A pond doesn't just need cleaning. Leaks, faulty pumps, and other issues may prevent you from enjoying your pond to its fullest. Our exploratory drain and clean service will help us get to the bottom of every issue and put an end to it.
First, we clean and check the condition of your water feature, identifying any leaks or repairs that need to be done. Next, we educate you on what you have, how it works, what's missing or broken, and how to properly care for your pond so you can enjoy it for longer.
At the end of the process, you are left with a clean water feature, a clear understanding of it, and a written report.
Pond maintenance can be a daunting task to do by yourself. We're here to do the dirty work for you, so you can relax and spend your time on what matters most to you. Here's how we do it:
Get in touch with us via phone call, email, or text, and tell us what's going on with your pond. We'll ask for some photos to better understand your pond state, and we'll have a phone consultation to discuss everything in detail.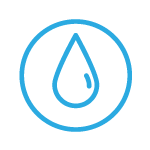 Our highly trained technicians will come to your home, set up their equipment, and clean your water feature like it was their own. They will answer any questions and make any necessary recommendations along the way. Sit back and relax!
Remember what your pond looked like when it was new? There's no reason for you not to enjoy that every season. Get ready for your pond to look better than it ever did, and gather all your loved ones around a thriving water feature.
Pond Maintenance and Cleaning Prices
Whether your pond just needs a proper cleanout or you're looking for regular maintenance, we can handle all of your pond cleaning and maintenance needs.
Exploratory Drain & Clean for a small pond.
Exploratory Drain & Clean for a up to 11x16 pond.
Exploratory Drain & Clean for ponds larger than average
Regular Pond Maintenance Package*
Seasonal pond maintenance priced according to the size of the pond.
*Prices are averages and may change depending on the size of your pond, the state of it, and any other issues we identify along the way. You'll receive an exact quote for your unique pond cleanout after your phone consultation.
The Proof Of Happy Customers
As one of the leading water feature companies in the industry we can assure you that your project is in the right hands. Whether we're cleaning your existing water feature or building a new pond or waterfall for you, we have your back.
Our Koi pond was cleaned and the water is now looking pristine, our koi were so happy swimming around and racing each other.
They arrived on time and completed the job expeditiously and were very professional. 
They also spoke with me about the pond condition and recommendations, we are definitely going to hire them again.
New England Aquatic Landscaping helped save the day!
After getting some advice from them, our pond is in the process of being cleaned, our fish should survive, and we no longer feel overwhelmed!
If you live in MA and have a pond, want a pond, or just enjoy talking to pond guys, they are the people that you should call! If we had enough pond jobs, they would probably even come out to NY!
A big thanks to Shawn for his willingness to talk us through the process!
I booked a spring clean out a few weeks back.
The crew arrived on time and were very professional and polite.
They did a great job cleaning out my koi pond and were very efficient.
Will definitely book again for the future. Highly recommended!
Keep Your Pond Healthy And Thriving With Professional Pond Cleaning